Gear and clothing for climbing, backpacking, canyoneering & mountaineering...only the best!
Need something you don't see here? Don't hesitate to call us.
We take phone orders! 702-254-1143 OR Fax: 702-254-1050.
Climbing gear
Aiders
Ascenders
Belay Devices
Cams/ Hexes
Caribiners
Cord
Dynamic Rope
Anchors
Bolt Kits
Chalk Bags
Crash Pads
Gear Slings
Harnesses `
Helmets
Haul Bags
Porta ledges
Pulleys
Rope bags
Shoes
Slings
Webbing
Backpacking & Camping
Desert Rock Sports has a complete selection of gear needed for backpacking and camping. We carry trekking poles, backpacking stoves and fuel, water filters, hydration bags and Nalgene bottles, tents, backpacks, sleeping bags, Thermarest pads, hiking shoes, Chaco sandals, dry bags, insect spray, Nikwax, compression sacks, and a range of miscellaneous items needed around camp.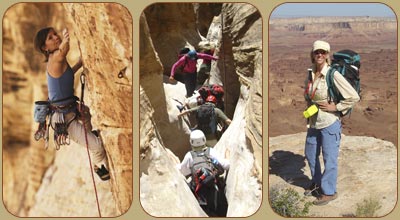 Canyoneering gear
Desert Rock Sports is now selling specialized technical canyoneering gear from Imlay Canyon Gear. We have Imlay Packs, Static Polyester Rope, Rope Silos, Canyon Kegs, Petzl Pirana, Pot Shots and the best canyoneering shoe on the market, the La Sportiva Exum River Shoe. We also have canyon knives, talons and hooks.
Guide Books & DRS T-shirts
We carry a large selection of guide books for the southwest region. Guidebooks for Red Rock Canyon and Southern Nevada Climbing can be purchased online, along with Desert Rock Sports T-shirts.
Durable Outdoor Clothing
We carry Mountain Hardwear, Patagonia, Outdoor Research and other top brands of high tech outdoor clothing for all weather conditons.
How to find us... The store is located (see Map) just 15 minutes from Red Rock Canyon.